SPORTS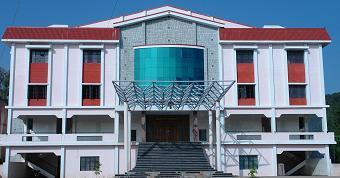 VISION : The Department shall strive to educate competent leaders in the fields of Physical Education, Yoga, and Sports to serve the nation and society for better health and active lifestyles of people through participation in physical activities and sports


MISSION : The Department is to achieve the following through physical activity, sports, yoga, and recreation:


To achieve excellence in teaching, research, and community services through innovative practices. To prepare competent teachers and future leaders in the areas of physical education and sports,
To promote sports culture and to enhance sports participation and performance at elite level
To encourage international sports participation,
To provide opportunities to the students of special population and socially deprived for better life-style,
To help the community in better understanding of human relations, promote health, and bring excellence in sports performance,
To encourage and support women's sports, the obese community, and elderly population through participation in life time physical activities,
To develop the knowledge and importance of daily physical activities, stress management, weight control, general fitness, and proper nutrition in human performance during the lifetime.

Mr. Shivakumar, GFGC Bhadravathi, represented India in Kho-Kho and played test series against UK in Mumbai (28-30/01/2017). He also got ''best dodger'' at SZIU Kho-Kho Tournament organized at Mangalore University, Mangalagangothri (Jan, 2017).


Mr. Muneer Basha, GFGC Bhadravathi represented India in Kho-Kho at SAF Championship and won Gold Medal. He was also Vice-captain of the team (2015-16). Under his captaincy Kuvempu University won Runners-up place in SZIU Kho-Kho Tournament (Jan 10-13, 2017).


Kum. Prakruthi U, GFGC Thirthahalli participated as Indian team delegate at Asian Power Lifting Championship held at Jemshedpur (27-30/12/2017) won bronze medal. 4. Kum. Rajani, ATNCC Shimoga participated as Indian team delegate at Asian Power Lifting Championship held at Jemshedpur (27-30/12/2017) won Gold and Silver medals.


Mr. R Vinaykumar represented India in Cricket (Played Kuvempu University Cricket Team-thrice). In 2003-04 he was selected for VIZZY TROPHY south zone team and played the tournament.


Ms. Pushpa N Silver Medal at International Power lifting Championship at Uzbekistan. (She is Kuvempu University lifter).


Ms. Nethravathi got IV Place in World Jr. Power lifting Championship at South Africa(She is Kuvempu University lifter).


Mrs. Rosemary Priscilla, Represented India in Kabaddi (W) team.Two time gold medal in 1st and 2nd Asian Women Kabaddi Championship (2005 & 2007) and five times played national federation championships, played for Mangalore and Kuvempu University


Mr. Manukumar, Jnana Shyadhri Shimoga, International Karate competition at Srilanka (Galle) 1st to 6th Feb 2012 Rs . 41,000.00/-


Kum. Veen,: MSPS College CKM, International Karate competition at Srilanka (Galle)1st to 6th Feb 2012.


Mr. Manjunath: Kuvempu University student studying in M P Ed Course Represented India in Throw Ball (Men) Team three times (Nepal (2017), Singapore (2013-14) and Sri Lanka (2011-12)


Mr. Kishan Gangoli, studying in III year B A, DVS College, Shimoga, Outstanding Blind Chess Player (75% of visual impairment) represented India and participated in Blind Chess Olympiad held at Spain from 11-21, June. 2013 (University gave Financial Assistance of Rs.50,000/-). Two time Olympiad medalist (2013 and 2017). Only Indian to achieve this. Asian Gold Medalist. Four times National 'A' Champion in 2013 2014 2016 and 2017. Current National champion in visually impaired chess. Only Indian to get 15th place in IBCA world championship.

01. Multipurpose Play Field :
University Campus has multipurpose outdoor play field for the campus students and also for the physical education students. The field is 100 mts in length and 60 mts in width and in total 6000 square meters. The Play field can accommodate to play following games and sports
200 mts Athletic Track
Football
Hockey
Kabaddi
Kho-Kho
Throw ball
Tenni-koit
Handball
Ball Badminton
Soft Ball
Volleyball
Tennis
Cricket

02. Indoors Sports Complex:
The University has Indoors Sports Complex with total plinth area of 2500 square mts. It has 1250 mts playing area and 1250 mts. sports hostels with 24 rooms and other facilities like Girls changing room, boys changing room, office of the directorate of physical education, rooms for staff members, office room, store rooms, class rooms for physical education classes and Wash rooms for men and women, In indoors the following games can be played on multipurpose usage:
Badminton (Four Courts)
Table Tennis (Four Tables)
Wrestling (With Full Mat) (Two Mats can be accommodated at a time)
Judo
Basketball (With moveable fiberglass) one court
Volleyball one court
Multi-gym with weight training equipment
Yoga (with Mats)
Gym Balls for training
Pole Vault and High Jump Beds with cover

03. Hostels:
The Ladies hostel has fitness area for 20' x 30' dimension wherein yoga, gym balls and ISO kinetic equipment installed for the use of women. Boy's hostel has the provision for multi-gym facilities.

04. Play Park for Children:
For the use of children of the campus, a play park has been constructed.

05. Gymnasium Building:
An exclusive gymnasium is under construction with total plinth area of 300 square feet for the use of campus students with latest facilities.