Vice Chancellor of Kuvempu University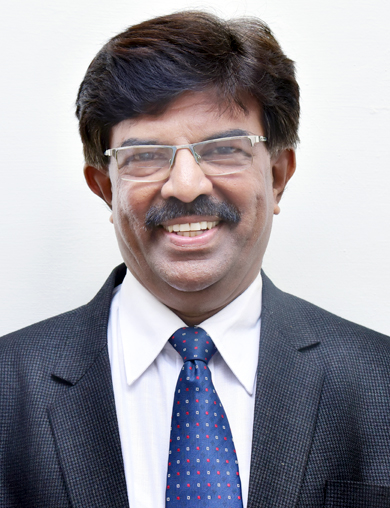 Prof. B. P. Veerabhadrappa, the Honourable Vice-Chancellor of Kuvempu University, is a renowned scholar in Economics, an able administrator, and a social worker.
He was born 1958, in Nyamathi, Honnali Taluk of Davangere District, Karnataka. He has completed his bachelors and masters degree in economics with first class, two gold medals and cash prizes from the University of Mysore. Kuvempu University awarded him Doctoral degree for his stupendous research in economic governance, social justice and poverty alleviation.
His sincerity and commitment to teaching is what his students in Mysore, Kuvempu and Davangere universities would cherish forever. He has delivered special lectures in seminars, conferences, academic staff colleges, and universities in India and abroad. Some of his lectures were broadcast by All India Radio and Dooradarshan.
His intellectual acumen has made him also an able administrator. He has worked as the Chairperson of the Department of Economics, Dean of the Faculty of Arts, Finance Officer, and later as the in-charge Vice-Chancellor of Davangere University. He has served in bodies like Board of Studies, Board of Examinations, Academic Council, Senate and Syndicate.
Prof. Veerabhadrappa is a serious and active researcher. He has successfully guided 20 Ph.D and 25 M.Phil. students. He has published more than 100 research papers in national and international journals. He has been the Editor-in-chief of Kuvempu University Economic Journal and Editor of Southern Economist. He is a peer reviewer for Indian Economic Journal and is in the advisory board of the journal - International Business Management.
His research specialization includes rural development, development economics, welfare economics, economic policy and public policy, Indian agriculture, micro finance, globalization, social welfare, public economics, economic planning, monetary economics etc. He has contributed voluminously to the development of theoretical economics on the lines of coordination and cooperation between economic factors and social factors for good economic governance and social justice by wiping out the problem of poverty and economic deprivation.
He has also attended and presented papers, delivered inaugural address, key note address and has chaired many sessions in hundreds of conferences, seminars and symposia in India and abroad.
His interaction and association with well-known scholars and philosophers during his visits to London School of Economics; Oxford University, Cambridge Trinity college, Royal University of Scotland Edinburgh, have groomed him into an international scholar. The papers he has presented and published in the international conference proceedings in Europe, Tunisia, Turkey, Egypt, Thailand, Japan and Taiwan are stunning examples.
He is associated with many professional organizations and other bodies like Indian Economic Association, International Economic Congress, Karnataka Economic Association, Karnataka Economic Federation, Indian society of Agricultural Economics, and Indian Society of Labour Economics. India has benefitted from his critical inputs and intellectual sharpness though his participation in the State and National level budget discussions many a time.
He was a visiting fellow at the Indian Institute of Advanced Study Shimla, National Institute of Public Finance and Policy New Delhi, Tirupathi University, Bombay School of Economics, Madras School of Economics, Delhi School of Economics, Gokhale Institute of Economics and Politics, Bharathiar University, and Madurai Kamaraj University.
He is a person committed to Social Work. He has visited agriculture research institutions and farms in extension programmes, studied the environmental problems in Kudremukh as a project.
In Prof. Veerabhadrappa we see a committed teacher, a vibrant institution builder, a great philosopher, a critical social thinker and a loving human in action.